That night everything changed.  My dad was given custody.  We moved states and my dad brought us to this Boys & Girls Club.  I hated it...I was in shock, I went from a dope house surrounded by druggies to a Club where every-one kept telling me they cared. But I thought nobody cared. I thought I was better off dead...Then they slowly started winning me over. ...So while many people think of the programs and the buildings when they donate, I want you to donate because of the people.  I want you to donate so that the Boys & Girls Clubs of Stoneham & Wakefield will continue never to quit on the Ashleys, the Jacobs, the Nathans, and the Lilys.

- Ashley, member
I never saw empathy from strangers until I came to the Clubs.  When my mom worked late, they let us stay later.  When I was sad, they asked what was wrong.  I went from a place where I didn't want to hug anyone to a place where these strangers told me they cared.

- Amaia, member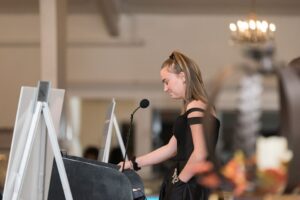 First batch of photos from the Bill Chetwynd Memorial Gala! We have another batch to process, and videos still to come. Thank you to the very talented Deryk Sonsini Goodrich for providing the following photos on the day his baby was due!
And, again thank you to all the 450+ attendees, 70+ sponsors, volunteers, and young people who made this incredible night possible. Because of you were raised $100k for our kids!
Read More
Newsletter
Sign up to receive the Club's Newsletter including the latest news, events, program information, fundraisers, and more!
Enter your name, email address, and click subscribe!